25. October 2011
Hits: 978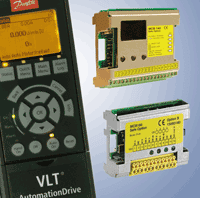 SPS / IPC / Drives 3 Hall, Booth 119

Danfoss is a new, highly efficient engine cooling concept which will provide together with Rittal, and for the first time integrated security and monitoring modules for frequency converter. The task of shifting functional machine safety in the drive while maintaining the handling of existing, discrete security concepts, led to this new approach, which has been realized with the MCB 140 / 150 security module.
At the core of this solution with MCB 140 is the complete separation of the safety and drive parameters, and internal processor architecture towards the drive. As a result, the security module behaves almost like an external safety component but provides the space and cost-saving benefits of a drive-based safety technology. According to EN-61800 5-2 SIL 3 the MCB 140 provides inter alia SS1 (Safe Stop 1), SLS (Safe Limited Speed), safe standstill monitoring, SMS (safe max. Speed), a drive ext. Protective and safety door monitoring and unlocking. The MCB150 in contrast, is directly linked with the drive and prepare it for a zukünftigte connection to customary safety bus systems.
The drive-integrated monitoring device is used to detect insulation defects and improper ground fault currents. The customized to VLT inverter device monitors the complete drive system, including filters, drive, motor and motor cable. As it is pre-configured connection kit, the commissioning is fast and easy. Parameter setting is not necessary. It is especially suitable for reliable operation in IT or TN systems and prevents reliable in these systems of production downturns.
Also new is the combined Luft-/Wasser-Kühlung. The new module comes pre-assembled and can be done with only 30 cm width cm depth and 60 TS8 integrate with any system easy. It monitors the temperature inside the cabinet and, through the circulation of the water for the most efficient cooling. So the hot air passes through a heat exchanger with the help of the water removes the heat loss from the enclosure, and supplies, if necessary other processes. With only one module can be implemented up to 10 kW heat. Thus, this concept ensures efficient and flexible alternative to the pure liquid-cooled devices represent
---
Another contribution of the manufacturer This e-mail address is being protected from spambots! Must be enabled to display JavaScript!