03. 2010. September XNUMX September XNUMX
Hits: 709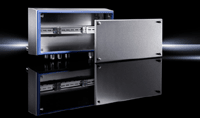 Rittal to expand its program Hygienic DesignPackages now to-clean HD terminal boxes. The stainless steel housing with chamfered sides and provide external, split-free seal for best hygiene properties. Fasteners and a denser grid in the mounting rails as conventionally also ensure easy installation and flexible placement.
Terminal boxes are used to hold electrical and electronic components. Thus, this in hygiene-critical applications in the food industry clean with recurrent cleaning cycles and just leave the hygiene requirements shall be special Rittal Hygienic Design (HD) terminal boxes developed. As with the larger HD enclosure series also access the proven design features of hygienic design.
The safe and crevice free seal between the housing and the cover are a blue, outer silicone seal. This is in comparison to conventional seals for a much lighter resistant to cleaning agents, acids and bases, and on the other to replace. Of particular advantage is that through this concept, a cavity-free housing gasket technology is available. For best hygiene properties also make the round beveled to 3 or 10 ° sides of housing and cover. Where classical terminal boxes are locked for the food industry with a variety of screws that come with four high-definition versions of clean designed quick-release fasteners. Instead Phillips Rittal relies on an easy-to-clean hex.
On offer are the HD terminal boxes can be mounted either horizontally or vertically, in five standard sizes. The spectrum ranges from square 150 x x 150 80 mm (WHD) to rectangular housings with 400 x x 200 120 mm. Depending on the size and application of the HD terminal boxes provide enough space for compact sensors and I / O components. As standard, the housings are equipped with two mounting rails. New is the denser spacing (6,25 instead 12,5 mm) that allows for a more flexible mounting eg with mounting rails.
---
Another contribution of the manufacturer
        This e-mail address is being protected from spambots! Must be enabled to display JavaScript!