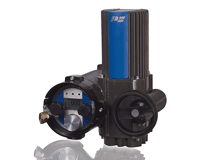 Achema 8.0 Hall, Booth J39a
The Rotary actuators of the PSM of PS Automation combines extensive functionality with compact design and high energy efficiency. The variable speed drive allows the travel or the reference range in sections assign different speeds. The first size are the PSM with 60 Nm for the three phase tripping.
The application of the PSM is used in the actuation of flaps in conjunction with a swivel gear, sliders or a through spindle. By use of a plug-in coupling the drive can be easily adapted to the valve interface.

The rotational movement of the actuator is detected by a non-contact, absolute encoded sensors and electronically evaluated. It is powered by a high-performance and energy-efficient DC motor which is controlled by the electronics and monitored. Its engine torque is transmitted in a compact, multi-stage planetary gear to the output. PSM with a DC motor and planetary gearbox, in comparison to a conventional drive at a lower energy requirement. For the same output power of the PSM requires about half of electric power.
---
Another contribution of the manufacturer This e-mail address is being protected from spambots! Must be enabled to display JavaScript!