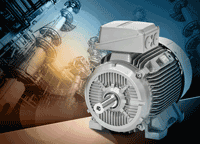 Siemens presents its energy-efficient electric motor system with variations in the cast iron housing on a broader basis. For the manufacturing and process industry IE2 and IE3 engines stand up 200 kW are available that can be used in harsh environments. They are also suitable for export to Canada, Mexico and the United States.
For several years, the manufacturer has the 1LE1-Asynchronmotorenreihe from Simotics General Purpose series very energy efficient motors with aluminum housing. These have been supplemented by variants whose scope is much further. With the additional Simotics Severe Duty motors with cast iron housing of 1LE1 series in efficiency class IE2 and IE3 the entire width between industrial applications and 0,75 200 kW is covered. The development of these variants for the Severe-duty work, great emphasis was placed on a fully compatible size.
Is the energy-saving motors with cast iron housing it as Basic Line for standard applications and a performance line for very harsh environments, as they are frequently encountered in the chemical and process industries. Here, from an economic and environmental point of view is the standard integrated PTC motor protection benefit. This monitors the coil temperature so that thermal stress can be detected early due to unexpected technical or mechanical process disturbances. A failure of the motors due to overload can be prevented so. As also practically proves the drainage system T-tube, which allows drainage of the engine by simply rotating the cover.
Just like the aluminum versions of 1LE1 generation follow the cast iron motors an integrated, hands-on series concept. The modular system approach to the cultivation of the components cast iron motors can also be supplemented as necessary with encoder, brake and external fan. Be very useful for the handling of engines proves the diagonally split terminal box, which can be rotated in 90-degree increments, so that the supply of the cable to the clipboard can be easily adapted to the local conditions.
---
Another contribution of the manufacturer
Energy Savings Calculator
This e-mail address is being protected from spambots To display JavaScript must be turned on!