25. October 2011
Hits: 876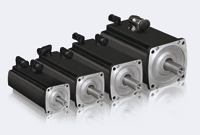 SPS / IPC / Drives 1 Hall, Booth 560

Baumüller presents its new Generation of servo motor series DSD in sizes up 45 100 with an increased range of services in terms of speed and torque, and a more compact design. Due to the increased speed range of up to 6000 min-1 dynamics and productivity are greatly improved. In addition to the sizes 71 100 are now also available with water cooling.
The new cooling option reduces noise and surface temperature of the motor. In addition, water-cooled servo motors have a more than twice as high power density compared with uncooled designs and can also be used when a surface cooling due to certain environmental conditions is not feasible. Thus, an optimal adaptation to the cooling system is given.
Visually the DSD2 engines were transferred to the more compact body design of the DSC-motor series. The servo motors will continue to have an integrated, slim housing design and a smooth casing surface with low dirt retention. The new features will not only increase the efficiency of the engines as well as profitability for the user. At the same time belong to the dirt or restrictions on the use to existing designs of the past. Furthermore, the use of Basic Performance-donors in the new generation of engines DSD2 be realized. With this expansion of the donor portfolios optimal scalability of the motor to the respective dynamic application is possible.
The DSD2 engines are used in any application where a high dynamic range is required. Through the unified mechanical design and identical interfaces increases the flexibility of the machine builder. The permanent magnet synchronous servo motors are virtually detent-free and energy efficient than other engines of similar design. Due to its consistent mechanical concept, they are perfectly designed for use in the textile and plastic machinery as well as in tool making. All engines in the range are available to DSD2 IP 65.
---
Another contribution of the manufacturer This e-mail address is being protected from spambots! Must be enabled to display JavaScript!