26. August 2012
Hits: 2115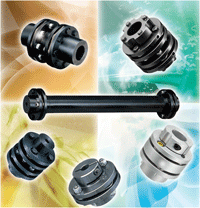 Motek Hall 3 stand 3207
The focus of our stand by Tsubaki is the real-Flex coupling series that has been optimized using the finite element method. The new backlash clutches running lubrication-free and offer greater precision due to the improved torsional rigidity.
The range of real-Flex couplings range from the small, high-precision NES series with a minimum of torque transmission 0,7 Nm about the NEF series with 19,6 6860 Nm up to large NEH series with maximum 176.000 Nm. The applications of real-Flex couplings are versatile applications of the NES and NEF couplings are found for example by NC machining center, about printing presses to lifting equipment and industrial robots, while the NEH-coupling is among others for mining.
For large distances between shaft ends, TSUBAKI a selection of long coupling versions: The double-plate clutch acts as a floating shaft. In the U-plate clutch can be the spacer without disassembling the disc connection and installing. The G-disc clutch can replace gear couplings. In addition, can other versions with different shaft connection methods provide such power lock, keyway or clamping.
Thanks to its non-wearing parts, the real-Flex couplings have a very long life. They are made entirely of metal. And there is no sliding or moving parts, and therefore no friction surfaces, so that lubrication is not necessary. Therefore, keep the clutches was extremely high temperatures and are practically due to its specially treated surface for any environment. Because of their freedom of play they are suitable for use with servo motors and generally for all applications that require highly precise power transmission. The optimized fin design allows for high torsional rigidity, which in turn provides for a significant reduction in elastic deformation. This allows even the slight rotational movements are transmitted precisely to the driven side. In the coupling construction unnecessary flange was removed and replaced with a square hub. This results in the low moment of inertia.
The company will also present the fifth generation of its maintenance-free BS / DIN Lambda roller chain, the linear drive with zip chain and grab the chain with specially designed movable grippers.
---
Another contribution of the manufacturer
This e-mail address is being protected from spambots! Must be enabled to display JavaScript!