01. November 2011
Hits: 1585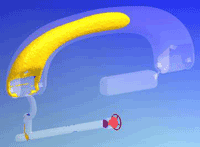 Euromold 11 Hall, Booth D28

"Simpoe Engineer" offers as part of Simpoe-Spritzgießsimulationssoftware the intuitive handling in uniform single-window design, the use of real 3D CAD data and large databases, automatic volume and surface networking and comprehensive evaluation options. Are applicable to all projects:
* Single Cavity and family molds
* Inserts and multi-component models
* Gas ​​injection and sandwich method
* Fibre-reinforced materials.
Building on the comprehensive functions of the Simpoe "Xplorer", which are integrated in the Engineer, this module can also process parameters of pressure phase, the cycle times and the cooling requirements are analyzed and adapted easily. The position of sink marks, the temperature profiles in inserts or cascading of multiple injection points can be evaluated with the Simpoe Engineer.
The software offers a variety of additional outcome measures with which to assess the packing phase and the required cycle times of the models effectively and optimized. Sectional representations resulting temperature distributions at selected times can be also considered as isosurfaces uniform temperature. The temporal evolution of the parameters can be displayed in order to perform a simple and quick assessment of the cycle times.
It is irrelevant whether an absolute pressure controller used in the packing phase or the holding pressure is defined depending on the required injection pressure. The pressure profile can be chosen freely. The Simpoe Engineer also shows the volume shrinkage and the stress distribution, which influence the final deformation of the component directly. Using the Batch Manager and Model Manager also different cycle times can be quickly and easily compare with one another.
---
Another contribution of the manufacturer This e-mail address is being protected from spambots! Must be enabled to display JavaScript!