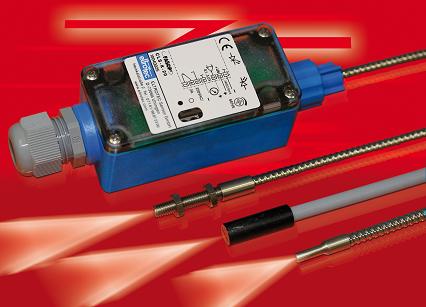 For numerous detection tasks in machine provides the solutions with Eltrotec Color Sensors, Laser distance sensors and fiber optic sensors with their associated amplifiers. With the series CLS-K offers Eltrotec to a compact optical fiber amplifiers for scanning distances up 200 mm and ranges up to 2.000 mm, which measures with a switching frequency of 4 kHz. At the analog output signals from 0,1 5 VDC to be generated.
The series CLS-K is used to detect the position, the position and attendance control and for length and diameter testing. For glass detection or control of the coating plates optional UV version is available. Fiber optic sensors are the first choice for demanding applications. You are at temperatures up 600 ° C as well as in hard to reach areas and limited installation space applications where standard solutions are overwhelmed with photocells.
Displacement, web guide and complex measurement and testing situations in difficult conditions among the areas of application in automation and assembly technology. By a separate arrangement of the electronic components, these sensors are also suitable for use in hazardous environments. In the light guides, a jacket (cladding) having a low and a highly transparent core (core) are of high refractive index. This core is made of transparent plastic or glass. High temperatures, long distances or transmit specific wavelengths require glass fibers, simple applications can be equipped with the plastic fibers. The transmitted light signal is made visible, infrared or ultraviolet light, which is guided by the principle of total reflection. Eltrotec has fibers with fiber diameters of 30, 50, 70 and 100 microns in the program, said 70 micron fiber represents the optimum ratio of transmission (permeability) and flexibility of the optical fiber. For further processing of the light signal, an adaptation of the optical waveguide to an optical fiber amplifier, and a probe is required. Where the light signal is converted into an electrical control signal which can be fed as a switchable or analog signal of the machine or system control. The probe represents the optical head of the sensor and is used for mechanical fixing in the installation.
Customized optical fiber for illumination and sensor functions according to customer specifications are an important area in Eltrotec They are made for wavelength ranges of up 250 2.500 nm.
---
Another contribution of the manufacturer
This e-mail address is being protected from spambots To display JavaScript must be turned on!