03. August 2012
Hits: 1005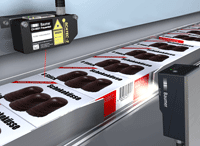 With the Copy counter "Scatec 2-Box"Provides Baumer a new version of Counter-Scatec specifically for the packaging industry. Thus, the efficiency is increased significantly in the promotion package. It works precisely at CWR and irregular transportation of the packages.
In conventional solutions, the detection gaps between the individual sufficient packaging is needed. With a change of packaging, such as from a white to a colorful design also may be necessary to readjust the sensor. When using the Scatec 2-Box is not necessary this additional expense. It works precisely at CWR and irregular transport of packaging and packaging reliably detects all - regardless of color and texture of the products. These properties can speed up the process and increase throughput. Even high speeds cause the Counter Due to its very fast response time of less than 400 ĩS no problems. It is used for example to trigger a code reading or labeling system.
Are complemented by the advantages of easy installation Scatec meaning "Plug & Play" and support the unique opportunity through the "ScaDiag" diagnostic software from the manufacturer. It enables for aberrant behavior in the production process during the production data is recorded. These are forwarded to the technical support. This makes it possible to help the customer on the basis of current process data quickly and reliably, without the process to be interrupted.
---
Another contribution of the manufacturer Webcast This e-mail address is being protected from spambots! Must be enabled to display JavaScript!