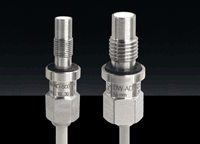 Automatica B1 Hall, Booth 319
Contrinex presents the C44 one versatile type of switch with moveable sensor head and protection class IP 69K including for the automotive industry. Especially robust miniature sensors are according to the manufacturer, the smallest fully integrated inductive sensors on the market. There is also an RF handheld read-write head to supplement the high frequency RFID system to be seen.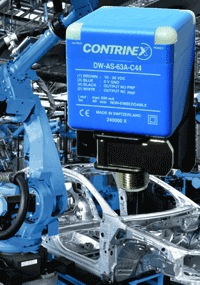 The inductive proximity switches in C44 cubic industry standard housing is extremely powerful. It has a swivel sensor head can be oriented in five different directions and is therefore very flexible during installation: The user can adjust the sensor to the application and not the other way around. Four LED visible from all sides to give him any information about the current state and the tool-free assembly reduces installation time to a minimum.
The sensor has a protection rating IP 69K. In conjunction with an extended temperature range of-25 ° to + ° C 85 this guarantees even in extreme environmental conditions or when used in outdoor applications reliable switching. Thanks to the variants with increased transmission distances up to 40 mm can increase the distance to the moving object to the extent that mechanical damage can be virtually eliminated. This prolongs the life of the proximity switch. The C44 suitable for use in the highly automated processes in the automotive industry and materials handling. But as part of the complex technology of modern rides, in harsh environmental conditions must always ensure absolute safety, ensures the long life sensor for safe operation.
The miniature sensors are extremely compact, has a low weight and withstand high loads. They are highly functional and work well in a small space almost completely reliable. They are suitable for all applications where space is limited. Typical applications include robotics, automated tool changer, micromechanics or the linear drive technology. For extreme environments, there are high-pressure resistant miniature sensors in sizes M5 and M8.
The HF handheld read-write head complements the high-frequency RFID system, which means the user can read data contained on a disk anywhere and make any changes on the ground. The HF handheld operates on the Windows Mobile operating system and contains all 6.1 PDA standard programs. He is a 1D / 2D barcode reader, a high-frequency RFID write and the software tool "Con ID HF handheld" equipped.
---
Another contribution of the manufacturer
This e-mail address is being protected from spambots! Must be enabled to display JavaScript!