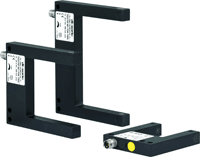 Di-Soric offers the most comprehensive Slotted Optical Switch program with different fork widths and depths fork. The sensitivity adjustment is a potentiometer or an auto-teach. On some models, is not overloaded with unnecessary adjustment. The collimated light transmission is available as infrared, red light and red laser light available.
In the light barrier of the series "Ogutid" a special evaluation is integrated. Due to the dynamic operating principle of a high resolution remains in varying environmental conditions such as dirt get long. Only rapid changes in the optical axis are recognized - slow changes such as the establishment of a pollution does not result in an output signal. For example, the movement of a thread can also be reliably detected in a plexiglass tube when the wall thickness of the tube is not always the same.

Optimum adaptation to the application via the auto-teaching process, which by simply pressing a button, depending Bedämpfungszustand the recipient accepts the operation mode with high resolution up dirt.

An interruption of the light beam generated at the output a short switching pulse, whose length can be adjusted by a potentiometer between 5 and 150 ms (1 s). Short pulses, caused by small, fast-moving objects may thus be extended to the extent necessary. The setting 1 s is achieved at the end stop of the potentiometer. Is performed in the set time region each renewed interruption of the light beam at the output is in a quasi continuous signal. Dwells the light beam on an object or in the gap, then the signal drops only after the set time is complete. This enables the rapid construction of a quiescent or motion control without the otherwise necessary additional evaluation logic. The inversion of the output signal via the teach button.

Typical applications for the dynamic light barrier sensing are oscillating threads to the thread breakage monitoring, injection monitoring of lubricants, spray, detection of small parts at the feed in hoses, discharge control of stamping machines or stability control at feeders.
---
Another contribution of the manufacturer This e-mail address is being protected from spambots! Must be enabled to display JavaScript!