23. August 2012
Hits: 1504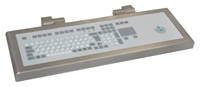 Richard Wöhr offers its wall Keyboard Series "Wally 7" and its table Keyboard Series "tabla 6" now with a built-in RFID reader. This technical system of radio frequency identification are given the opportunity to read and store data without having to touch the keyboard.
The reader is connected via a USB port on the keyboard. They are available in short stroke industrial keyboard with integrated touchpad. They have a four-color front foil embossed buttons with high edges and capacitive operating principle. The Abak equipment (anti-bacterial) of the front covers is ideal for use in areas where high hygiene requirements must be met, such as in the medical, food, pharmaceutical and cleanroom industry.
The stainless steel case of Wally 7 is infinitely adjustable hinge-in tilt angle. Also, the displacement is infinitely variable. With an optional battery adapter plate allows the keypad easy to mount to walls of all kinds. The cables are completely performed by the hinge, and therefore not visible. The surfaces of both short stroke are plated. Both Wally 7 and the tabla 6 fulfill front of protection IP65.
---
Another contribution of the manufacturer This e-mail address is being protected from spambots! Must be enabled to display JavaScript!