02. August 2012
Hits: 1447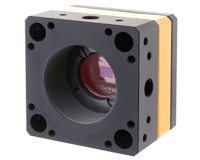 Aptina's MT9M031 is a 1 / 3 "CMOS image sensor. 1.2 megapixels with a resolution of (H x 1280 960 V) and a frame rate of 45 fps at full resolution It is characterized by a particularly high sensitivity to light, and is very suitable for accurate detection of moving images. The new camera VFU M031 of Framos has complex camera features such as image scaling, windowing, auto exposure and a Row-skip mode.
This camera allows to manufacturer exceptionally clear and sharp images and can capture both video and still images.
By ICX445 Sony leads Visiosens a 1 / 3 "CCD image sensor with a resolution of 1.2 megapixel (1280 960 H x V) and a frame rate of 15fps in its camera line. By using the Exview HAD CCD technology, the ICX445 an extremely high sensitivity that qualifies him as opposed to conventional CCD for use in security applications especially. It also offers an incredibly low smear and very low blooming. It also supports signal outputs in a variety of formats, including progressive scan, Center-out readout and 4-pixel-addition-mode readout.
The VFU camera series is an extremely flexible technology platform with over 140 camera variants per image sensor. The platform consists of 6 high-quality image sensors, sophisticated mounting options, mounts, filters, and an integrated LED ring lighting (optional). It has a USB or USB 2.0 3.0 interface with up to 5 Gbit / s For all variants, the user and system interface based on a uniform, future-proof and cross-platform software development kit (SDK), with the latest. NET technology.
The extremely rugged camera case is specifically designed for industrial applications and for microscopy. It provides a plurality of mounting possibilities on the left and right sides as well as on the front, which are always arranged symmetrically to the optical axis of the sensor. Users can choose between C, CS-mount or M12. An optional LED ring is connected in the housing, and with the integrated 8-pin I / O port.
---
Another contribution of the manufacturer
This e-mail address is being protected from spambots! Must be enabled to display JavaScript!