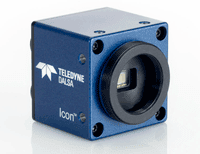 Teledyne Dalsa has launched its new programmable camera series "Icon" (Stemmer distribution) presented with this cropped image processing library. This camera series combines the expertise of the Canadian manufacturer in the fields of sensors, cameras and imaging with powerful development tools and libraries.
The Icon series works with high quality sensors with high sensitivity and supports resolutions up to 1600 1200 x pixels in color and monochrome. A major strength of the Icon cameras is that they are an open platform for the development of embedded applications using either the Embedded Sapera Vision SDK or image processing third-party libraries available to. Experienced users can achieve with Microsoft Visual Studio on Microsoft Windows CE embedded applications for the Icon camera series. The Sapera Embedded Vision SDK provides a set of integrated image acquisition and processing libraries represents It contains a series of optimized image processing functions, such as tools for reading barcodes, OCR recognition, blob analysis, the outline and geometric search and calibration .
To process images deterministic and can analyze to include the Icon camera series over a 1GHz ARM Cortex-A8 and C64x + DSP processor with Microsoft Windows CE real-time operating system. These properties, combined with their low power consumption and compact size make the Icon series of integrated processing platform for image processing.
---
Another contribution of the manufacturer This e-mail address is being protected from spambots! Must be enabled to display JavaScript!