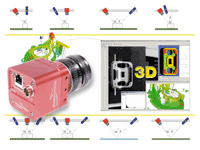 Automatica B2 Hall, Booth 302
Photonfocus (Sales intoxicationr) supplemented with the fast 3D camera 3D03 the product portfolio with high Triangulationsraten. This is up to 8418 light slices per second. In one of Triangulationshöhe 16 pixels simultaneously, two vertical profiles to be measured simultaneously. 2D additional information can be evaluated. Thus, various configurations of line lasers and 3D cameras are possible.
The Camera-MV1 D2048x1088-3D03-760-G2-8 CMOSIS based on the CMOS image sensor and has a resolution of CMV2000 2048 x 1088 pixels. As with the 3D cameras 3D01 3D02 and is in the new model of the peak of Aqsense algorithm with subpixel resolution determining the position of the triangulation of the camera integrated in the FPGA.
The implemented GigE interface for data transfer allows the rational design of high-performance multi-camera systems. The new 3D camera model was integrated into the existing software suite of the manufacturer, the 3D suite. In addition, the SDK has been extended by new functionality. The user can rely on the GigE Vision and GenICam compatible GigE camera to image processing libraries that support these interfaces. A brief guide helps implementations with common libraries.
If the new camera are installed as a camera module in the measuring systems, to request, and OEM board-level versions of the user 3D03 be provided. Flexible adapter also allow the construction of Scheimpflugkonfigurationen. The existing software can of course also be used together with these variations.
For 3D inspection in the NIR with line lasers with a wavelength of 850 870 nm and nm, the 3D camera also available with the version of the NIR image sensor CMOSIS CMV2000 be equipped.
---
Another contribution of the manufacturer
This e-mail address is being protected from spambots! Must be enabled to display JavaScript!