10. April 2012
Hits: 1879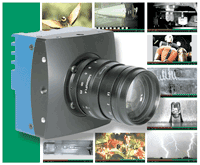 Automatica B2 Hall, Booth 302
The High-speed camera "EoSens 4CXP"Rauscher allows detailed high-speed imaging for motion analysis in sports, medicine and bionics, the process of analysis in research and development as well as in industrial manufacturing and filling processes. You collect maximum 500 frames / s with a resolution of 4 megapixels and is faster so the more production processes in industrial manufacturing needs.
Errors can be detected more accurately and optimize processes targeted. Moreover EoSens 4CXP can even detect the smallest components detail. Even with the transfer of the growing amounts of data convinced the high-speed camera: "CoaXPress" interface transmits data in real time with up to 2,4 Gbyte / s to the PC and thus allows the direct evaluation and processing.
The cable for data transfer serves the power supply and the communication between the PC and high-speed camera. For example, the camera can be easily integrated into systems and no costs for additional cables. One possible cable length of up to 40 m enables their flexible application.
The flexibility of EoSens 4CXP is also reflected in the variable adaptation of the frame rate, which is infinitely more than hunderttausensed fps. increase at reduced resolution can. For example 1000 frames / s in Full HD (x 1920 1080 pixels) are possible. The high resolution of the camera for high-speed imaging is in broadcasting and sports.
more Specifications:
* Continuous adjustment of the frame rate
* Maximum Sensitivity
* 1600 ASA monochrome, 1200 ASA in color RGB
* Global Shutter
* Nm spectral 350 to 850
* C-mount, F-mount
---
Another contribution of the manufacturer
This e-mail address is being protected from spambots! Must be enabled to display JavaScript!