16. November 2011
Hits: 846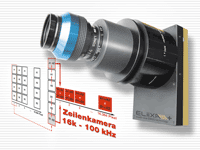 In camera technology for industrial image processing due to smaller and smaller feature sizes ever higher resolutions and speeds are required. Fine details should be checked at the same time increasing numbers of cycles. Line cameras have thus to keep pace. With the "Eliixa +" line of camera e2v can not only solve performance problems.
The imaging conditions in line scan camera applications are usually chosen so that the pixel resolution of both along the line and in the direction of transport equal. Increasing the horizontal Resolution, the resolution is also in other words, the direction of transport Increasing line rate. This relationship prevented in some applications the use of high resolution Line cameras. Thus, in some 4k fast applications such as three-line cameras fitted with up to 72 kHz, since 12k line camera with a maximum 25 kHz running. The multi-camera solution is therefore quicker than 3 factor as the solution with a single line scan camera. For high Resolutions 8k, 12k and more pixels / line is thus a significant increase in Line rate required for such applications implement with only one camera.
With the rising rates is inevitably less Time for the exposure is available. The ie the light sensitivity of the sensor must also be increased. A solution to the problems described, the new "Eliixa +" line camera-generation e2v with multi-line CMOS architecture represents
The newly developed CMOS sensor features 16.384 pixels, with a maximum Line rate of up to 100 kHz read be. With 5 micron pixel size is the Sensor also handled well with regard to appearance. The MTF (modulation transfer function) with extant High optics and not by too small a pixel size limited. The manufacturer reaches the production process a good planarity of the sensor, so that a sharp image on the entire sensor length of 82 mm ensures is.
The construction of the multi-line CMOS sensor provides a large dynamic range up to 73 dB: Prior to the analog to digital conversion by the Design of the photodiode achieves a high charge-conversion factor. The amplifiers are right next to the active pixels arranged. Which results in a high quantum efficiency (QE) of up to at% 72 550 nm The Correlated Double Sampling (CDS) provides a homogeneous, low-noise Images.
The special multi-line architecture of the sensor consists of four active lines of 16k pixels next to each other without a gap lie. Each two adjacent Lines form a couplet, the noise-free the analog voltages added. The two intensity values, the after the AD conversion of each line pair present, are then digitally in FPGA summed. This combined method the addition of analog voltage and digital brightness values increases the sensitivity of the sensor 4 a factor. This sensor with its 450 LSB / (nJ / cm2) sensitive enough are used in practice without costly Special lighting the highest Driving speed.
Since the four sensor lines next to each other directly lie, remains the focus - in Unlike cameras with more lines or with space between the lines - Also at oblique viewing of up to 45 ° fully maintained on the object. Due to the high proliferation of CameraLink line scan camera, there is the "Full Camera Link Interface". Full speed is. With "Coax" Press Achieved
---
Another contribution of the manufacturer This e-mail address is being protected from spambots! Must be enabled to display JavaScript!