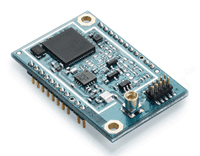 The WirelessHART modules WD-H of Softing enables users to easily integrate wireless data transmission in existing field devices and complies with all requirements of modern process automation. It combines a proven hardware that is based on standard components, with a fully tested protocol stack.
Because of its small size and practical interface design, it is ideal for use in most existing field devices. Manufacturers benefit from a proven design and avoid the costly in-house development of a WirelessHART interface.
The WD-H provides the user with extensive functionality. These include a low power, and wireless data over long distances. Furthermore, the industrial-grade design allows use in different environmental requirements - associated with a corresponding ATEX certification of the module for hazardous areas.
---
Another contribution of the manufacturer