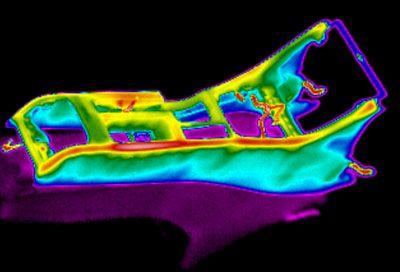 SPS IPC Drives Hall 4A, Booth 126

Success Story
Uncontrolled and unstable processes are the most common cost havens in injection molding. 60 to 70% of all molding-related defects are caused by the tempering of the injection molds. With the Thermal Imaging Cameras from Optris and the online quality monitoring system "IR-Thermo Control"By Willi Steinko and Plexpert Thermal defects in injection molding can be detected inline as they form.

In combination with the Software "PI Connect"The data is transferred to IR-Thermo Control. On this basis, setters, process engineers and quality managers come to high-quality components quickly, safely and effectively with the shortest possible cycle times. The time and energy savings achieved lead to a reduction in unit costs in the production of molded parts.


Most common thermal problems and their causes
| | | |
| --- | --- | --- |
| appearance | Thermal problem assignment | Most common cause |
| Dimensional problems, lack of mechanical properties | Excessive temperature deviations on the tool wall | Asymetric tempering channel layout, insufficient heat dissipation, bridging of tempering channels |
| Molding default | Excessive temperature deviations on the tool wall, partially or over the entire molded part | Asymetric tempering channel layout, insufficient heat dissipation, bridging of tempering channels |
| Surface markings by gloss and matte spots, burr formation | Thermal impressions of inserts and ejector pins, domes, retainers, ribs and breakthroughs | Insufficient heat dissipation, insufficient insulation of hot runner systems and HK nozzles, non-tempered parts of molded parts |
| Significantly too long cooling times / cycle times | Poorly designed mold temperature control, high pressure losses within the temperature control system, hotspots on the molded part | Clogged cooling ducts, inadequate technical condition of the tempering and cooling units, aggressive water condition, untreated or insufficiently treated water |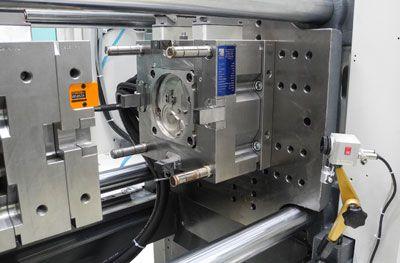 The IR-Thermo Control System provides this important data and shows short-term effects and trends such as a gradual increase in temperature in the series process. Easy installation within 5 minutes on any injection molding machine allows for maximum flexibility and system availability.


Temperature deviation via reference image method
The process-oriented user guidance facilitates the definition of control limits and automatically delivers temperature deviations via a reference image method. This makes differences immediately visible. The quality module IR-Thermo Control creates an image of the molded part in each cycle. From the first GOOD part, a reference image is generated. Each following shot is compared with the reference picture. If there is a deviation at any point, an alarm is issued. This technology finds z. B. Application in 2K injection molding as well as in the combination of foam / compact injection molding (Krallmann Pilot Werkzeug GmbH).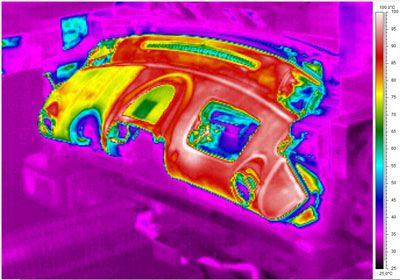 In another example from the automotive sector, faults occurring in the process become directly visible. The following application shows a thermal vulnerability occurring during manufacturing in such a way that the left area (picture left) has a lower surface temperature than the right one. As a result, the component was manufactured almost 2,5 mm shorter. The reason for the dimensional deviation was that the required reprint could not be effective. The mold temperature control was then adjusted in this area and thus optimized (picture on the right).


Look into the thermal future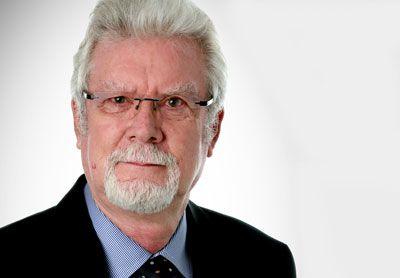 No other technical instrument brings such clear thermal inefficiencies to light as the "plug and work" IR-Thermo Control system. For example, too high temperature differences are displayed on injection molded parts and tools. Thus, the previous application of a hand to locate hot, warm or cold zones on the component or the tool surface is finally a thing of the past.
---
Another contribution of the manufacturer This e-mail address is being protected from spambots To display JavaScript must be turned on!