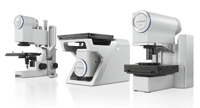 Control Hall 1, 1512 Stand
Olympus presented with the DSX-series, a new family of opto-digital microscopes. These are extremely easy to use and totally reliable. Three models are available: the pivotal DSX100 zoom microscope, upright microscope DSX500 the high resolution and high-resolution inverted microscope DSX500i. For a complete inspection system has been developed which meets all the requirements of research and development and quality control.
Among many other inspection and analysis are in the automotive industry, paleontology, geology, production of printed circuit boards, in the fiber structure, microchannels, metallography and for the geometry of small parts to the typical applications. Each user achieves professional results, even without understanding the technical aspects of microscopy.
Since microscopy and inspection covering more of the industrial sectors, as more institutions regularly use microscopy techniques. Within an institution but often users have very different experiences with the microscopy. Therefore, the inspection system for beginners and experts alike to be easy to use. The DSX series allows for him in comfortable work: Without eyepieces are the systems extremely ergonomic and allow the display of the samples on a touch screen monitor. This allows the microscope to control quickly and easily via the intuitive touchscreen interface, or alternatively with a conventional computer mouse. All three models of the DSX family use the same computational functionality. Thus operator can readily change from one model to the other. Special training unnecessary.
Image analysis is intuitive. The DSX preview function allows for quick and easy selection of the best optical technology without time-consuming adjustments. The system automatically generates a selection of preview images that are displayed as thumbnails for each technique. Brightfield, darkfield and differential interference contrast (DIC). Only the user touches the screen to select the preferred imaging.
Different operating modes provide for each user the appropriate option. The learning mode guides the novice through the individual operating steps. The advanced mode, however, offers a user with a basic knowledge additional flexibility. The user mode allows to customize the interface, so that only the information required for routine work functions visible. The software also provides the configuration of user profiles and specific protocols. She is thus aimed particularly at experienced users who want to optimize routine tasks. These special requirements, coordinated and tailored profiles can be stored easily and retrieve.
By combining features such as HDR (High Dynamic Range) and "cons" with extended optical zoom lenses and specialty high-resolution images can the optimal format for each application can be generated easily. The new zoom lens reduces halos and blooming, to produce images with excellent sharpness. The special lenses combine superior optics with complex image processing for precise, accurate and repeatable measurements.
---
development scout TV Another contribution of the company This e-mail address is being protected from spambots To display JavaScript must be turned on!