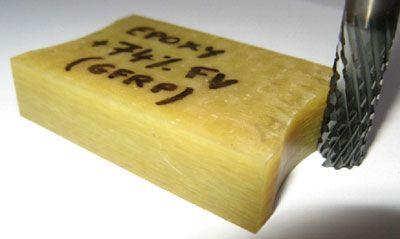 Experience the
Rapid Line HSC milling
of SPPW offer the right solution for users who aluminum and aluminum alloys, copper and copper alloys, fiber composites, aramid fiber composites, honeycomb composites, graphite materials and GRP / CRP and similar materials want to edit. They offer an extremely polished (feingeläppte) flute. Combined with the special cutting geometries they have an extremely low coefficient of friction and have a much better chip flow in the machining of long-chipping materials.
Due to the lower processing temperatures overheating and pick-ups are avoided. The router therefore have a longer life and achieve much better surface quality, which subsequent polishing can be omitted.
In the HSC compression cutters, the coiling moves from left to right. The result is that the axial cutting forces centered converge at a point, ie be compressed. The cutters are available in three lengths, so that the compression can take place in the center of the workpiece, respectively, in order to achieve optimal results. As a result, delamination can be much better controlled. In addition, the mills have chip breaker languages ​​for rapid chip removal is ensured and the process temperature remains low. HSC compression cutters are ideal for the machining of plastics on epoxy or polyester base with carbon or glass fibers and make it possible to produce surfaces finishing quality (ra <2 microns).
The HSC compression cutters are available with various diamond coatings: A smooth diamond layer with very high abrasion resistance is especially suitable for materials such as graphites, carbide and ceramic green sheets. In order to process materials with sticking tendency or changing material properties such as carbon, carbon and glass fiber reinforced plastics or composites ideal is given to using a nanocrystalline multilayer diamond film with high abrasion resistance. In addition to the diamond layers above extremely thin diamond layers close come with high wear resistance and extremely low coefficient of friction, especially for the processing of fiber plastics in question. This lead to a significantly lower edge rounding on the tool.
---
Another contribution of the manufacturer
This e-mail address is being protected from spambots To display JavaScript must be turned on!