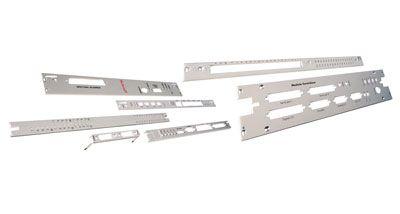 The second
3D configurator
the new generation of Pentair is online. With it, the front panels can easily configure and create a graphical model with drag + drop. to produce with the real-time plausibility check and the possibility of a button 3D CAD data, drawings, parts lists, offers and graphics, the configurator is a valuable tool for any developer and designer.
To configure the faceplates no registration is necessary, but possible. The configuration is started z. B. with a preconfigured faceplate from the product catalog, which is then adapted to the respective requirements. Or configures its custom front panel from scratch, starting with the selection of the panel type - with handle without handle or folding. After entering the desired dimensions, the shape of the front panel (U-profile or flat, with or without lateral groove) established the necessary EMC shielding and the type of surface.
The marked front panel is dragged + drop right into the configuration area. Here all further configuration steps are depicted. Short text instructions in the configuration menu provide the user with specific operating instructions for further action. Now the desired fastening material, different colors, printing or the size and position of individual or predefined outbreaks can be configured. The user can also choose whether the front panel is to be assembled or supplied in individual parts.
Configuration errors are excluded by the real-time plausibility check. The current state of the configuration can be viewed anytime as 3D model from all sides. The bill with the currently installed components is automatically created and can be shown or hidden. If a part removed from the bill, it disappears in the model in the configuration area and vice versa. If the faceplate is fully configured, data can be generated and transferred to a CAD system directly from the configurator the 2D- or 3D- CAD. Also creating a 3D PDF data sheet, including graphics and parts list is possible.
If the user is registered before the configuration, the configuration remains in the user profile obtained and can be further used. "Generate CAD and Completing the configuration" via the menu item, the configuration is saved and automatically transferred into the basket of the manufacturer. From 3 days, for all standard parts, the front plate is then sent.
---
Another contribution of the manufacturer
This e-mail address is being protected from spambots To display JavaScript must be turned on!