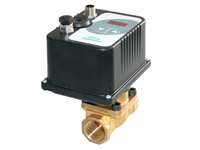 The low power consumption of about 4 W is compared to a solenoid valve only approximately 15%. A further reduction of power consumption in steady state condition at about 3 W is in itself a good argument for the new generation of electric motor-operated motor control valve "engine flowD"By Asco Numatics. This has an integrated flat rotary valve, wear-free ceramic discs which are resistant to contamination.
Another advantage of this principle lies in the avoidance of pressure surges, as the on-off control with reduced speed is. The linearity is usually better, the more the control of a valve curve approximates a straight line. When motor FlowD two ceramic disks of a shaft and an electric motor with gear mutually rotated. So always a triangular shape is retained. This yields a linear flow characteristic and thus highest possible precision.
Particularly suitable is the engine flowD for infinitely variable volume flow control of liquid and gaseous media. For this purpose, it has a reference input (0 - 10 V / 0 (4) - 20 mA), a feedback output (0 - 10 V / 0 (4) - 20 mA) and an integrated 3-point controller for regulating the valve position. Plus, a 3-digit LED display combined with input keys 2 local operation.
The PC serial port is used to communicate with the "Engine Com" software. They help to control parameters and setpoints and Istwerteinstellungen be changed and saved. An integrated scope function can be visualized time courses of target, actual value and more control signals. For example, a turbine flow sensor on M12 connector connected to allow a full flow control can be established. Apply the Flow EngineD in heating circuits, temperature control systems, chillers, test stands and in building management.
---
Another contribution of the manufacturerThis e-mail address is being protected from spambots To display JavaScript must be turned on!