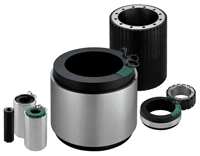 Kollmorgen presented with the Frameless brushless motors (KBM) Series new housing and brushless torque motors for demanding high-performance applications in confined spaces. They meet the requirements of machine builders and users of machine with a higher throughput, lower noise and longer lifetime. As hollow shaft direct drive motors with high power density, they enable very compact machine solutions.
If the KBM motors are mounted directly on the load of the machines, they offer the advantages of a rotary direct engine over traditional mechanical transmission systems. By components such as gears and toothed belt eliminated, the machine throughput and decreases the noise increases. In addition, this reduces maintenance and repair costs, decrease the equipment downtime and increases the lifespan. The efficiency of KBM motors is at least 10% above the mechanical solutions such as motor-gear and belt systems. The series can handle high inertia ratio between the rotor and load. The acceleration and deceleration values ​​contribute to maximum throughput.
Compared to other solutions, the direct motor KBM series differs by a unique variety of differently designed Standardardbauteilen. From them can be a modular design high-performance solutions put together. 14 sizes, lengths 7, prefabricated on 150 motor windings are available. In order to increase application performance yet, it can even install an external air or water cooling, which increases the duration of the engines torque significantly.
In the KBM series come bonded magnets used which allow a continuous torque of up 1,45 3445 Nm and a peak torque of up 4,91 12.812 Nm. The CE directive is complied with and the materials used meet the UL recommendation. In addition, when selecting materials RoHS compatible materials were considered.
The drive motors are available in standard sizes of 60 to 825 mm in diameter and are available for 240 480 or VAC. Each frame size is available in 3 or 4 lengths. The rotor hub dimensions can be adjusted within certain limits also customized.
---
Another contribution of the manufacturer This e-mail address is being protected from spambots To display JavaScript must be turned on!