30. August 2012
Hits: 867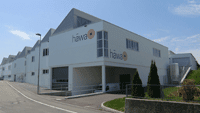 Recently the Häwa GmbH & Co. KG in Wain has completed the new production facilities and thus again to the manufacturing location Baden-Württemberg known. Overall, the company 6 million euros invested in the construction and create new jobs in addition 20.
The capacity expansion of the plant in Wain provides the company with further production opportunities for micro and small series from the housing program, the X-frame machine frames, and for the latest generation of wall-mounted cabinets.
With ecological rainwater from a cistern - - In addition to the halls of the new social spaces, a new test bed for water tests to Nema 4 are standard as well as a welding shop with modern extraction housed.
With the new building, the company is committed to its location in Wain. The next building project to increase the production depth of the company in Baden-Württemberg on, are already being planned. "We will drive growth at the site Wain, for a shift of production makes no sense to us. We want to produce where our customers are, "said Mark Jung, CEO of Häwa.
---
This e-mail address is being protected from spambots! Must be enabled to display JavaScript!