29. August 2012
Hits: 1056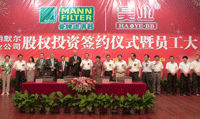 Thus, Mann + Hummel expands its presence in the aftermarket. The filter manufacturer employs more than 500 staff in the development, manufacture and sale of filters and filter elements for the aftermarket and local vehicle manufacturers. On 29. 2012 August, the contract is approximately unterzeichnet.Bengbu 450 kilometers northwest of Shanghai, the headquarters of the Chinese Headquarters of the Group.
For more than years 16 Bengbu Haoye specializes in the supply of various types of filters, primarily for the automotive aftermarket. In 2011 the company generated revenues of approximately 13 million euros.
Since 1996 Mann + Hummel served the automotive and industrial series and spare parts market in China with leading filtration technology. In the independent aftermarket meets the filtration specialist customer requirements using products by man-filter in OEM. China is for the filter specialists one of the strategic growth markets. The Group has four production plants in China: Changchun, Shanghai, Jinan and Liuzhou.
During the past decade, the China business of the Ludwigsburg company has grown considerably. In 2011 around 1100 employees in China, almost half of its sales in Asia. The aim of the group is to continue the Sino-German success story and to increase the Asian share of Group sales of today 17 on 25% to 2018. Group sales should rise to at least 3,4 billion euros.
---
This e-mail address is being protected from spambots! Must be enabled to display JavaScript!