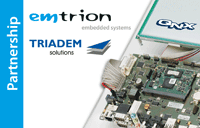 The emtrion GmbH, Germany and the Triadem Solutions AG, Switzerland have joined forces in a strategic partnership around the QNX real-time operating system. The partnership aims to increase the number of high-end 32-bit CPU modules that can be used with QNX for industrial projects. Likewise, the level of quality and the reliability of the GNP to be improved.
Use emtrion modules enables the user to quickly launch QNX-based products and also offers greater flexibility and support throughout the development. Emtrion leading manufacturer of CPU modules based on high-end 32 bit embedded processors (SuperH, Cortex-A8, multi-core Cortex A9) from Renesas, Freescale and Texas Instruments. Triadem Solutions offers however an experienced team of experts QNX, specializes in porting QNX on custom hardware and the development of device drivers and applications for QNX.
The first result of the collaboration between the companies is the QNX6.5 BSP for MX53 DIMM module. There are now Developer Kits. Two other BSPs for the TI and Freescale AM335x i.MX6 are planned for August and October 2012. Both BSPs run on CPU modules.
---
Another contribution of the manufacturer
This e-mail address is being protected from spambots! Must be enabled to display JavaScript!