01. 2010. Dezember
Hits: 1911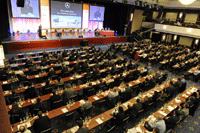 The International CTI Symposium "Innovative Automotive Transmissions, Hybrid and Electric Drives" has established itself as a key event for transmission and drive experts. The 9. Event takes place from 30. November to 2. 2010 December in Berlin. It picks up on the current trends in the development of powertrain technologies. Around fifty companies from the automotive industry to provide ten specialist forums proposes new approaches for the different gear types in the automobile.
Along with the capability to optimize the performance of gears on the CTI Symposium on the latest developments in hybrid and electric drive systems are discussed. The role of transmission in hybrid - and electric vehicles are another focus. Furthermore, questions of energy storage and various transmission components are presented. As part of the plenary session Rolf Najork, Getrag, Dr. Manfred Klüting, BMW, Dr Tim Leverton, Tata Motors and Kazutoshi Noma, Jatco discuss the question of how much gear, motor and battery, the vehicle of the future needs. The importance of all-wheel drive performance car explains Gerd Bofinger, Porsche.
The potential of electric mobility for the energy describes Dr. Nobert Verweyen, RWE. As part of one of the first results of the technical forums fleet testing of electric vehicles will be discussed. The changes for the transmission development through electrification of the powertrain also take up Dr. Wolf-Ekkehard Krieg, ZF Sachs and Masanori Ueda, Nissan.
Besides the extensive conference program, the accompanying exhibition "Transmission Expo" with over 70 international exhibitors more opportunities to learn about the global trends in the industry. Besides exhibitors present here also the winner of this year CTI Young Drive Experts Award, at the 1. December will be awarded to the plenary of the CTI Symposium of the best young engineers in the field of transmission and drive development.
---
This e-mail address is being protected from spambots! Must be enabled to display JavaScript!